We're Proud to be Hosting the Come Alive Outside Design Challenge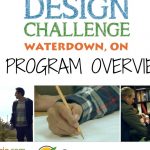 ***Charrette (noun):** an intensive planning session where citizens, designers and others collaborate on a vision for development. It provides a forum for ideas and offers the unique advantage of giving immediate feedback to the designers. More importantly, it allows everyone who participates to be a mutual author of the plan.*
As we look to a future in which 90% of North Americans will be living in urban areas by the year 2050, engaging outdoor learning environments provide an increasingly essential point of connection for young people to interact with nature. In the effort to create the sustainable and nature-rich cities of the future, there is also a great need to inspire the current generation of young people to play an active role in designing, building and maintaining great outdoor spaces in both our urban and rural environments.
The Come Alive Outside Design Challenge creates the opportunity for teams of post-secondary and secondary school students to work together with landscape professionals to design and build engaging outdoor learning environments at schools and childcare facilities.
In partnership with Come Alive Outside, Landscape Ontario and Gelderman Landscape Services will host one of the 2017 Design Challenges and bring top Landscape Design and Landscape Management students to participate in the program. On October 26th-28th, students from Guelph University and Niagara Parks School of Horticulture will
participate in a design charrette with students and community leaders in the Waterdown and Milton areas to create initial design concepts for a natural play area at P. L. Robertson Public School.
[Chris Mace (VP of Landscape & Design)](https://gelderman.com/company/team/40/chris-mace), [Chelsea Mills (Landscape Designer)](https://gelderman.com/company/team/92/chelsea-mills), [Michelle Alkerton (Estimator & Landscape Designer)](https://gelderman.com/company/team/123/michelle-alkerton), and [Shane Warren (Landscape Sales & Project Manager)](https://gelderman.com/company/team/3/shane-warren) will be at P.L. Robertson Public School, guiding their students in the brainstorming and design sessions.
Come Alive Outside is a non-profit organization whose mission is to facilitate collaborative community systems that create the awareness, intention, and opportunity for people to live healthier lives outside.
This event, one of two being held in Ontario this year, is co-sponsored by Come Alive Outside, [Landscape Ontario](https://landscapeontario.com/), [The Ontario Horticulture Trades Foundation](https://horttrades.com/tag/foundation), Gelderman Landscape Services, [the Halton District School Board](https://www.hdsb.ca/Pages/Home.aspx), [Connon Nurseries](http://connon.ca/), [Ike Vanderwoude Landscape Supply](http://vanderwoude.ca/), [Greenius](http://www.gogreenius.com/), [Dynascape](http://www.dynascape.com/), [Compass Creative](https://compasscreative.ca/), [Select Stone Supply](http://selectstonesupply.com/), and [Jim Pattison Lease](http://www.jimpattisonlease.com/).
After this fall's design charrette, the post-secondary schools will submit their designs, with the winning entry being chosen at the Landscape Ontario Congress in January.
The public is encouraged to join in the creativity and fun by attending the community presentation at Connon Nurseries, Saturday, October 28th, starting at 9:00 a.m. with a Meet and Greet, followed by the design presentations and a Q + A session.
More information about [Come Alive Outside](https://comealiveoutside.com/) can be found here.