Our team of certified experts assess every property before the winter season and develop a plan of action to keep your commercial property or condo safe and clear during any snowfall. When winter arrives, we monitor the weather 24/7 and are always prepared to act swiftly according to the conditions.
We provide snow removal services for a variety of properties, including commercial, industrial, office complexes, condominium and apartment properties, retirement living, funeral homes and more.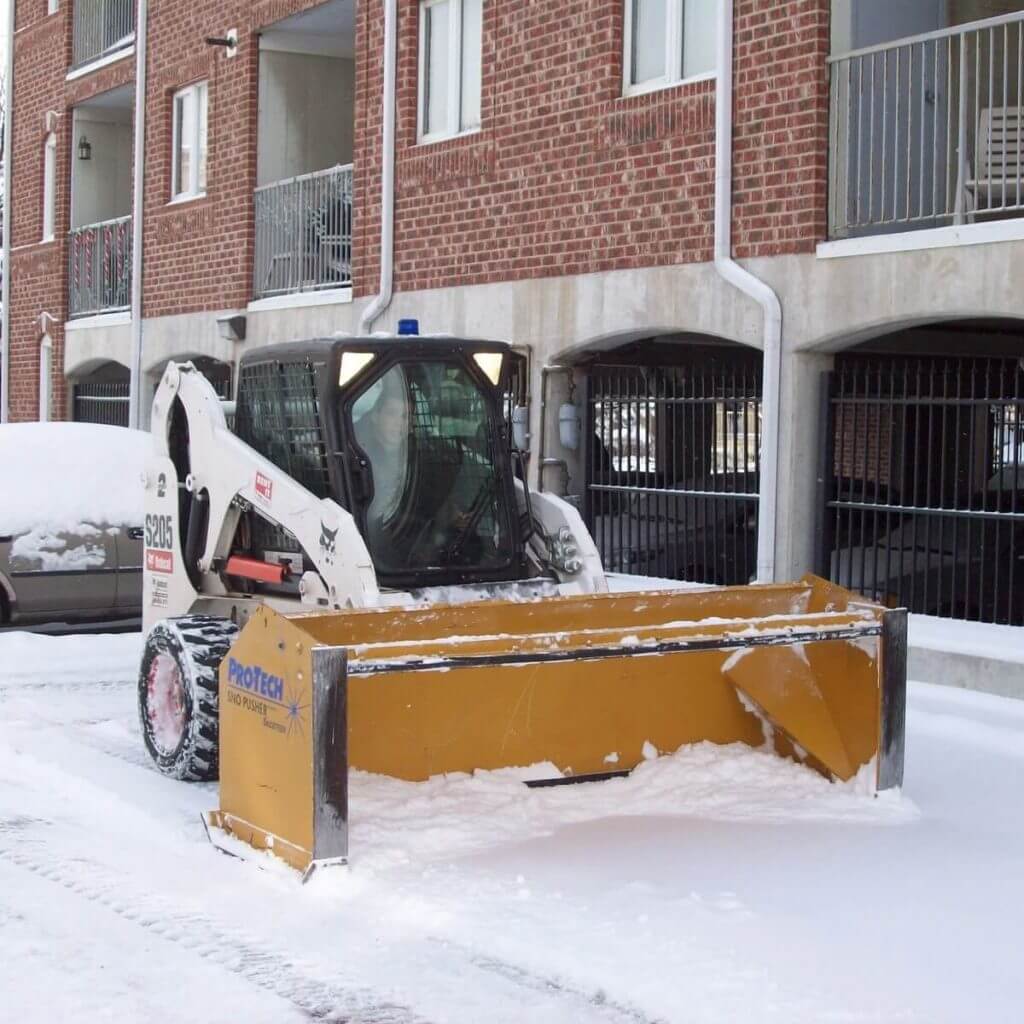 Trust Gelderman for Expert Snow Clearing and Ice Management
Want to be sure your provider can handle the hazardous, demanding business of snow clearing and ice management? Gelderman has the infrastructure to deliver safe and dependable services to your business.
Comprehensive general liability insurance of $10,000,000

Realtime site activity reports from our team

State-of-the-art equipment, including real-time GPS tracking on all units

Sensors on salting units to measure application time

Proof of service reports available on demand

Equipment operators equipped with site maps
Snow Removal Services For Your Property
At Gelderman, our snow removal services comprise a range of tasks that are required to keep your property safe and accessible throughout the winter. From snow clearing and snow plowing to ice management and driveway snow removal, we are here to support you throughout the winter months.
De-Icing Services
Ice management is an important way to keep your sidewalks and walkways safe for visitors, tenants, and customers. Make sure that you avoid potential slips and falls or other liability issues with proper de-icing services, including environmentally-friendly options.
Snow Plowing
Make sure that driveways and parking areas are not obstructed by major snow drifts. Our team's plowing services will ensure that your commercial property is regularly cleared of snow. Our team actively monitors weather data and our snow plow service is ready 24/7 to respond.
Snow Removal in Your Community
Over time, Gelderman's service area has grown across the Golden Horseshoe. Beginning in Burlington, we have opened locations in Guelph and Kitchener-Waterloo to better serve our customers across Ontario.
If you are looking for commercial snow removal services near you in Ontario, our team can help. We offer snow removal in any of our main locations and in the nearby communities of Oakville, Mississauga, Cambridge, and Hamilton.
Conquer Winter Challenges: Trust Us for Superior Snow Management
Request a Free Site Assessment
"The bobcat driver this year has been the best operator ever and was considerate of drainage concerns and snow piling."
— Louise Cooke – Condominium Unit Owner (Burlington, Ontario)