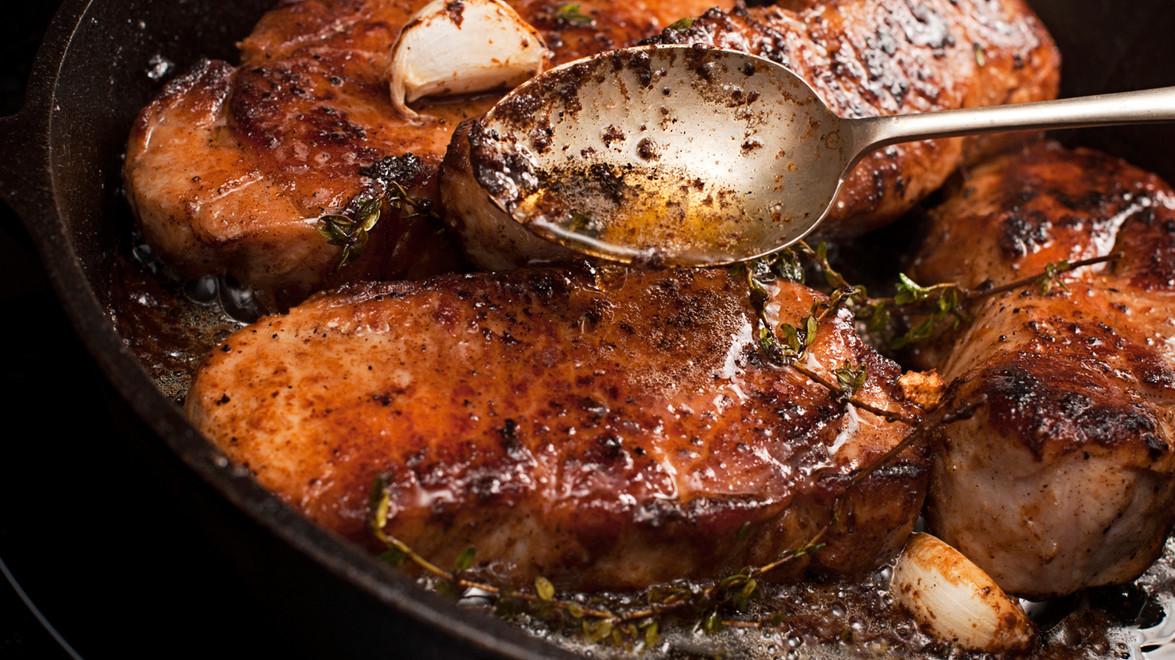 These pork chops come together quickly for an easy midweek meal.
Serves 4
Ingredients
3 tbsp. olive oil
4 small bone-in pork chops
kosher salt
Pepper
8 small garlic cloves
4 sprig fresh rosemary
1 red onion
1 small head red cabbage
1 apple peeled and chopped
2 tsp. sugar
4 tbsp. balsamic vinegar
Directions
Heat oven to 425 degrees F. Heat 2 tablespoons oil in a large oven-safe skillet over medium-high heat. Season the pork chops with 1/2 teaspoon each salt and pepper and cook on one side until golden brown, 3 to 4 minutes.
Turn the chops, scatter the garlic and rosemary around the chops and cook for 2 minutes more. Transfer the skillet to the oven and roast until the chops are just cooked through, 6 to 8 minutes. Let the chops rest for 5 minutes before serving.
Meanwhile, heat the remaining tablespoon oil in a second large skillet over medium heat. Add the onion and 1/2 teaspoon each salt and pepper and cook, covered, stirring occasionally, for 5 minutes.
Add the cabbage, apple, sugar, 2 tablespoons vinegar and 3 tablespoons water and simmer, covered, until nearly all the liquid has evaporated and the cabbage is just tender, 10 to 12 minutes; stir in the remaining vinegar. Serve with the pork chops, garlic and rosemary.
This recipe originally published in Woman's Day.