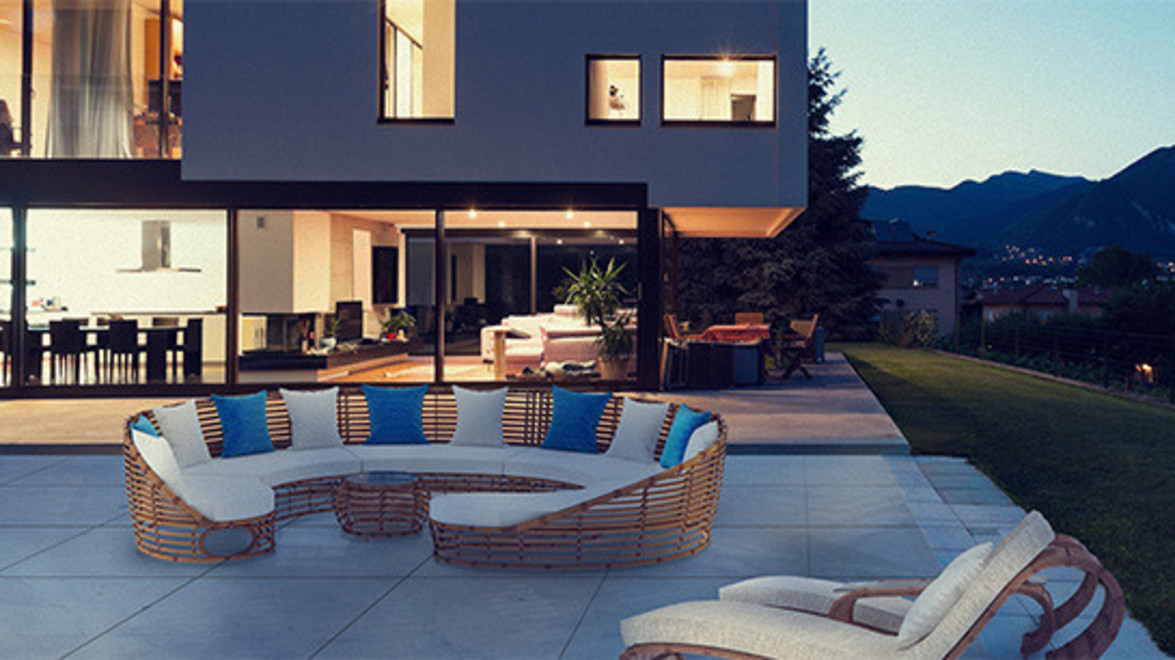 This season's top pool trends:
**AUTOMATIC POOL COVERS**
Owning a pool is becoming easier, and having an automatic pool cover is one of the reasons why. With the ability to operate the cover from your smartphone, you never have to worry about leaving it open again. Coverstar Canada has great options for all pools, with a variety of colours to choose from. Any shape of pool can be equipped with an automatic cover, however, all covers are a rectangular shape so building a track large enough to suit a free form pool may be pricey. Also, the pool wall must be sunken below grade in order to accommodate the track to sit on top.
For more information [click here!](http://coverstarcanada.com/)
**CLIMBING WALLS**
Are you looking to add an interactive feature to your existing pool? Climbing walls are starting to take off in both the residential and commercial markets. A simple concept – a rock wall next to a pool – has become a popular feature for kids and adults alike. There are some height restrictions based on the depth of the existing pool due to safety reasons but there are options for almost every pool.
Complete kits are available to install quickly and are available in a range of shapes, sizes, and colours to suit the needs of any project.
Click [here](http://aquaclimb.com/) for more info.
**TANNING LEDGES**
A simple way to expand the use of your pool is to incorporate a tanning ledge into the design. Usually allowing for 12 inches of water, this platform can be used for lounging and for young children and pets to cool off. Often these tanning ledges incorporate some sort of water feature like a fountain or waterfall to add more interest to the pool. This particular feature is easily added to concrete pools. Many manufacturers of fiberglass pools are starting to add tanning ledges to the list of options available.
Click [here](http://lathampool.ca/products/tanning-ledges/) for more info!
**FIREBOWLS**
Are you looking to add some flare to your pool area? The addition of a fire bowl or two is the way to WOW your guests. Not only does fire add a new type of lighting to your yard, but also an element of luxury. Often these fire bowls are incorporated into a water feature in order to really tie the design to the pool.
**MOVEABLE FLOORS**
It's exactly what you think, a pool floor that is automatically adjustable based on your needs. This type of engineering has been tossed around in the commercial market for quite some time in order to accommodate all types of abilities. It has proven to be a great solution when hosting all different types of swimming classes and water sports, as the depth of the pool can be changed in just minutes by the push of a button.
In terms of residential design, this feature allows for your pool to become extended patio space when not in use. No need to worry about safety when throwing a party or even when away, simply raise the pool floor to the height of the patio.
More info and photos [here](http://www.akvospiralift.com/).
**BEACH ENTRY POOLS**
Similar to the idea of a tanning ledge, a beach entry pool features a sloped entryway to allow for accessibility to all. This is a great solution for children and for individuals of all abilities. It can be used as a tanning ledge where pool loungers can be placed. This is a custom option that can be added to concrete and fiberglass pool designs.
**SPLASH PADS**
Eliminate safety risks for your children by adding a splash pad to your backyard. You can now have a custom splash pad of your own in the comfort of your own backyard. This is a great solution for young families and for yards that are too small for a pool. These splash pads are fully custom can feature a variety of water toys in all shapes, sizes, colours and even themes.
[Learn all you need to know about splash pads.](http://www.nirbo.com/)
*Post contributed by Chelsea Mills, Landscape Designer*