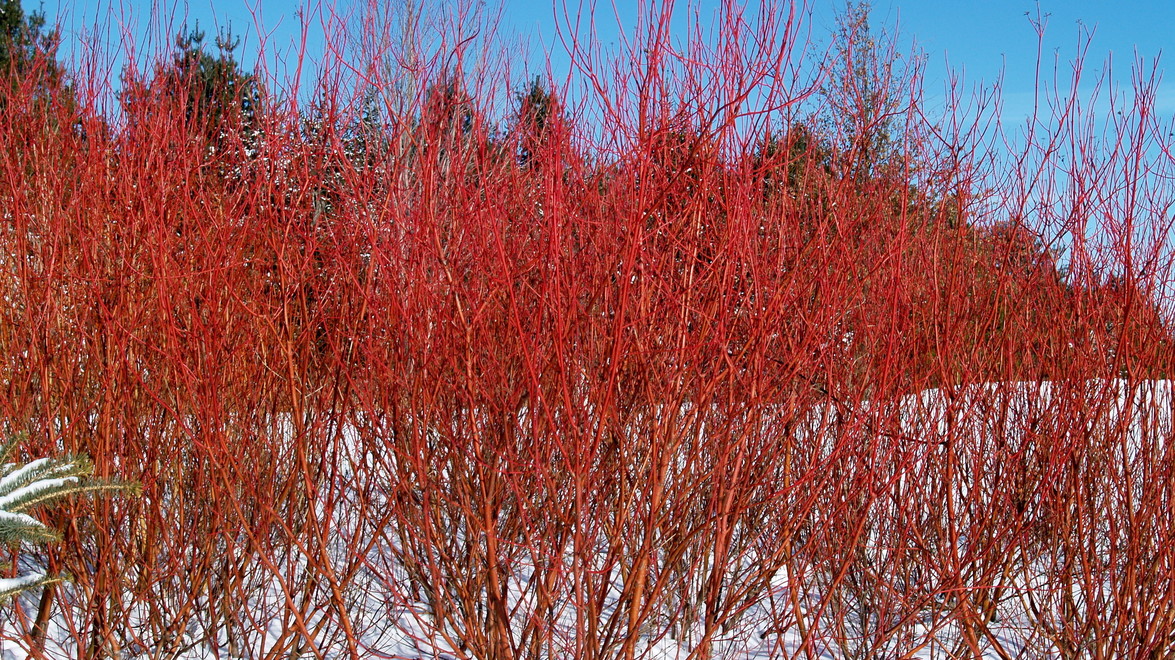 One of the most distinctive winter shrubs is the red osier dogwood; there is nothing like seeing their bright red twigs glowing through the glistening white snow on a cold winter day.
This native shrub has lots to offer with creamy-white spring flowers, red-purple foliage in the fall and bright red twigs all winter.
Growing Conditions:
They grow in full sun to part shade and are tolerant of wet soils.
Size:
This multi-stemmed shrub can grow up to 6-9' tall, depending on variety and will spread by suckering from the base. Although pruning is not required, roots can be trimmed to maintain desired size.
Hardiness:
Adaptable from zones 3-8
Where to Plant:
This shrub is capable of forming a colony and looks best when mass planted so use it in a shrub border, foundation planting, or plant on slopes to help control soil erosion.
Plant Partners:
These shrubs hold their own in the winter, try pairing with a yellow-twig dogwood for bright a colour contrast!
Recommended Varieties:
'Arctic Fire' – For those looking for a smaller variety, this one only gets approximately 4' tall and does not sucker.
'Flaviramea' – This is a yellow twig variety that grows approximately 6-7' tall and is a vigorous grow just like the regular red osier dogwood.
Happy new year to everyone and we look forward to sharing more gardening tips with you on our blog!
Cheers,
By Andrea Weddum
Post contributed by Andrea Weddum, Landscape Designer
For any questions or comments please comment on our
Facebook page.