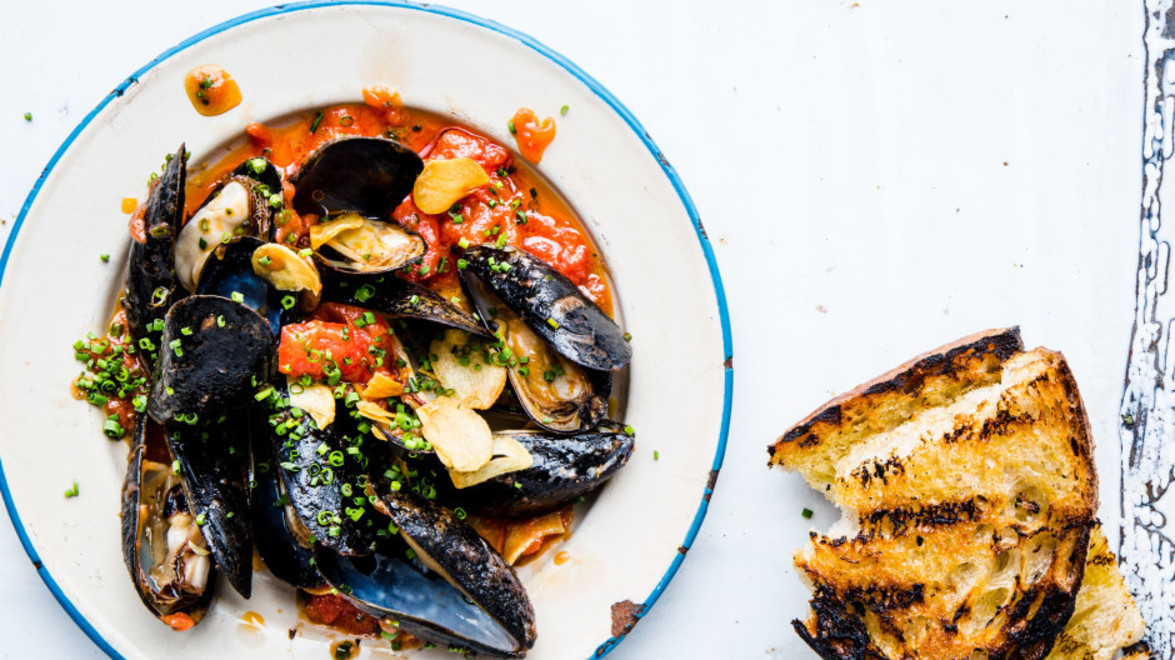 Mussels make a nice change from the usual chicken or beef. Share this dish outdoors, with good friends.
Serves 4
Ingredients
⅓ cup olive oil
3 garlic cloves, thinly sliced
1 pound tomatoes, cored, seeded, coarsely chopped
2 tablespoons chili oil
½ teaspoon fennel seeds, lightly crushed
Kosher salt
3 pounds mussels, scrubbed, debearded
2 tablespoons unsalted butter
3 tablespoons finely chopped chives
4 slices country-style bread, grilled
Directions
Heat oil in a large saucepan over medium. Cook garlic, stirring occasionally, until golden and crisp, about 3 minutes. Using a slotted spoon, transfer garlic to a small bowl. Increase heat to medium-high and add tomatoes to oil. Cook, pressing down on tomatoes using a wooden spoon until they are very soft and broken down, 8–10 minutes; pluck out peels. Stir in chili oil and fennel seeds; season with salt. Add mussels, cover, and cook, shaking pan occasionally, until mussels open, 5–8 minutes (discard any mussels that don't open). Using a slotted spoon, transfer mussels to shallow bowls. 

Add butter to tomato oil and stir until melted and incorporated. Taste and adjust seasoning. Ladle oil over mussels and top with chives and fried garlic. Serve with grilled bread.
Recipe from Bon Appetit.
Need some inspiration for a relaxing outdoor space? Find it here.