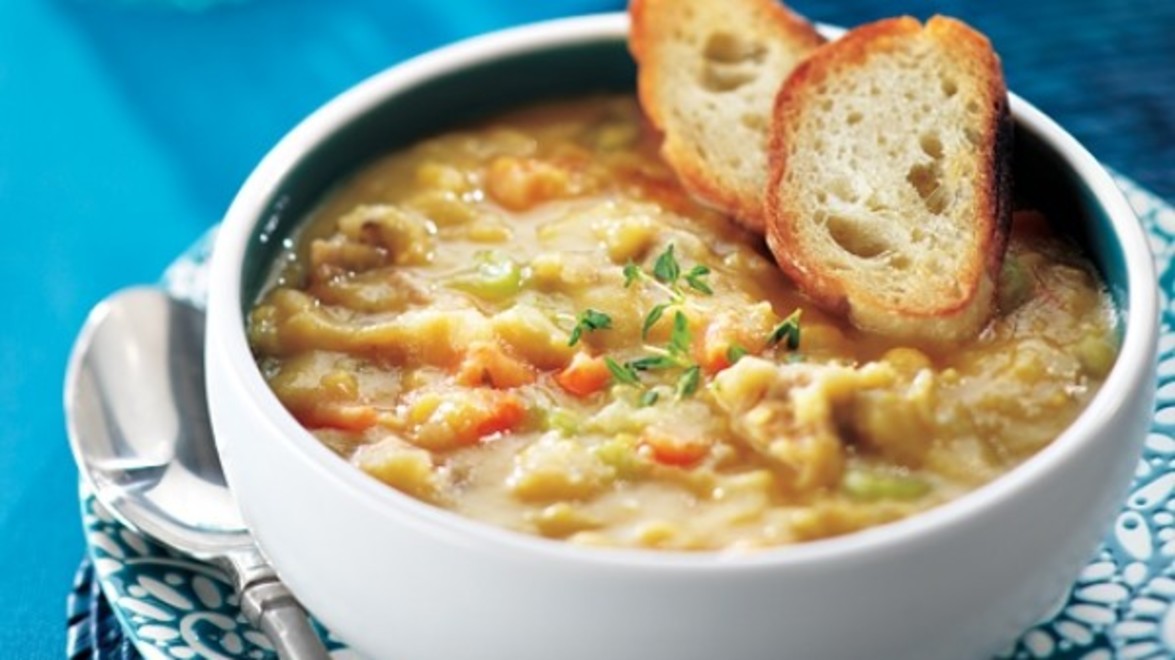 Pulses are high in protein, fiber, and vitamin content; they have a low glycemic index; they're gluten-free and generally non-allergenic.
Pulses as part of a healthy balanced diet have been shown to have an important role in preventing illnesses such as cancer, diabetes, and heart disease. Because of their role in improving soil sustainability, pulses can also improve a farmer's yield, and limit the long-term threat to food security that soil degradation represents in so many places.
This weeks pulse recipe is Quebec style Pea Soup.
Ingredients:
1 lb unsmoked ham hock (if using smoked ham hock, reduce salt to 1/4 tsp)
2 tbsp butter
2 carrots, diced
2 ribs celery, diced
1 onion, diced
2 cloves garlic, minced
1-3/4 cups dried yellow split peas
2 bay leaves
1 tsp dried savory or dried thyme
3/4 tsp salt1
4 tsp pepper
Directions:
Trim off and discard skin from ham hock; set hock aside.
In large Dutch oven, melt butter over medium heat; cook carrots, celery, onion and garlic, stirring occasionally, until softened and golden, about 15 minutes.
Stir in split peas, bay leaves, savory, salt and pepper; cook, stirring, for 2 minutes.
Stir in 8 cups water; add ham hock. Bring to boil; reduce heat, cover and simmer, stirring occasionally, until peas are very soft and soup is thickened, 1-1/2 to 2 hours.
Discard bay leaves. Transfer ham hock to plate; let cool enough to handle. Discarding bone and any fat, dice meat and return to soup; heat through.
Find out more about International Year of Pulses (IYP2016), or find more pulse recipes here.
Statistics from www.manitobapulse.ca/international-year-of-pulses/
Recipe and photo from Canadian Living