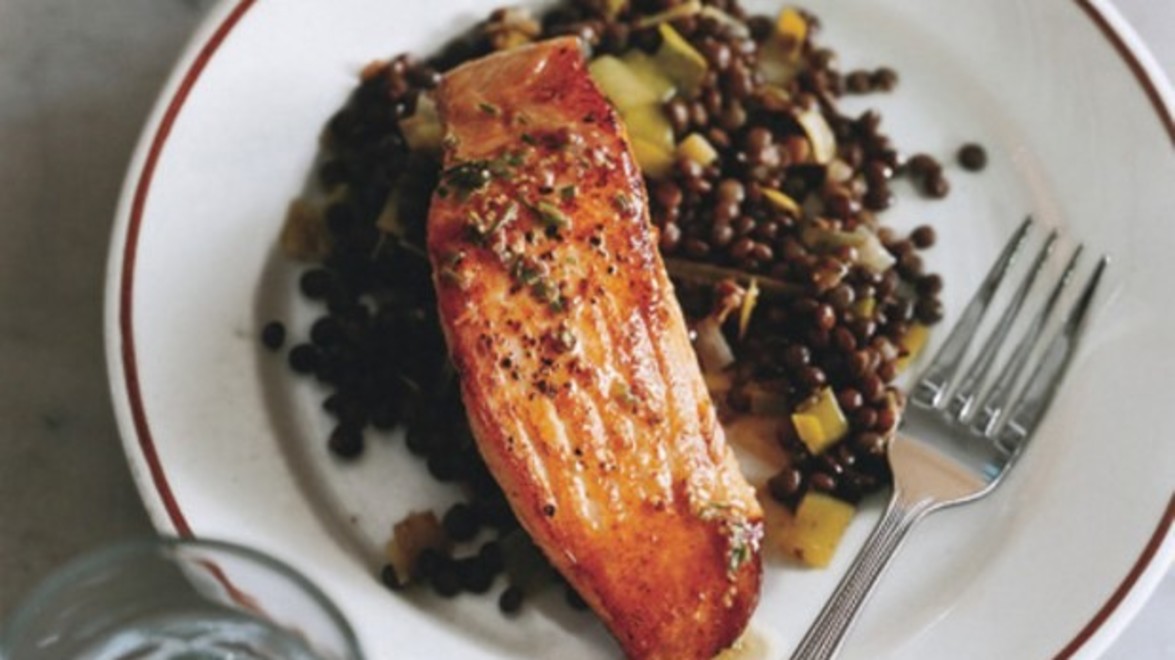 Pulses are an important component of crop rotations, as they require less fertilizer than other crops and can fix their own nitrogen.
This helps improve the yield of future crop rotations. Pulses also improve soil quality by feeding soil microbes, which helps crops to thrive and which offers greater protection against disease-causing bacteria and fungi. New research in breeding and agronomics will continue to improve our pulses, adding to these environmental benefits.
Salmon and lentils are a familiar combo in French bistro cooking. French green lentils add a unique texture to this dish but feel free to substitute brown lentils if that's all you can find.
Ingredients:
For mustard-herb butter
5 tablespoons unsalted butter, softened
1 tablespoon chopped chives
1 teaspoon chopped tarragon
2 teaspoons grainy mustard
2 teaspoons fresh lemon juice
For lentils
1 cup French green lentils
4 cups water
2 medium leeks (white and pale green parts only)
1 tablespoon unsalted butter
1/2 to 1 tablespoon fresh lemon juice
For salmon
4 (6-ounce) pieces skinless salmon fillet
2 tablespoons unsalted butter
Directions:
Make mustard-herb butter:
Stir together all ingredients with 1/4 teaspoon each of salt and pepper.
Cook lentils:
Bring lentils, water, and 3/4 teaspoon salt to a boil in a heavy medium saucepan, then reduce heat and simmer, uncovered, until lentils are just tender, 20 to 25 minutes. Remove from heat and let stand 5 minutes. Reserve 1/2 cup cooking liquid, then drain lentils.
While lentils cook, chop leeks, then wash . Cook leeks in butter in a heavy medium skillet over medium-low heat, stirring occasionally, until softened, 6 to 8 minutes.
Add lentils with reserved cooking liquid to leeks along with 3 tablespoons mustard-herb butter and cook, stirring, until lentils are heated through and butter is melted. Add lemon juice and salt and pepper to taste. Remove from heat and keep warm, covered.
Sauté salmon while leeks cook:
Pat salmon dry and sprinkle with 1/2 teaspoon salt and 1/4 teaspoon pepper (total).
Heat butter in a large nonstick skillet over medium-high heat until foam subsides, then sauté salmon, turning once, until golden and just cooked through, 6 to 8 minutes total.
Serve salmon, topped with remaining mustard-herb butter, over lentils.
Find out more about International Year of Pulses (IYP2016), or find more pulse recipes here.
Statistics from www.manitobapulse.ca/international-year-of-pulses/
Recipe and photo from Epicurious.