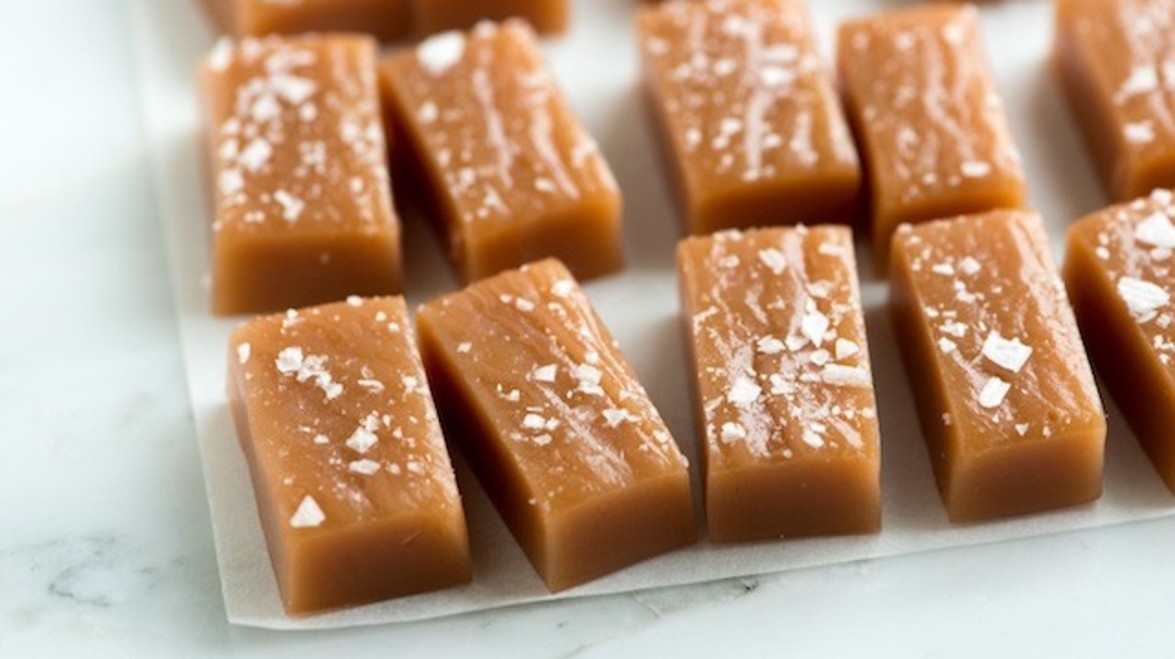 Salted caramels are one of the easiest candies to make, and don't require any special equipment – with a heavy bottom pot and a candy thermometer you are in business.
I've been making these for years, and to be honest – the worst part is wrapping them up. So grab a friend, open a bottle of wine & and turn on the radio – because these are worth the effort.
Ingredients
1 cup heavy cream
5 tablespoons unsalted butter, cut into pieces
1 teaspoon fleur de sel*
1 1/2 cups sugar
1/4 cup light corn syrup
1/4 cup water
Directions
Line bottom and sides of an 8-inch square baking pan with parchment paper, then lightly oil parchment.
Bring cream, butter, and fleur de sel to a boil in a small saucepan, then remove from heat and set aside.
Boil sugar, corn syrup, and water in a 3- to 4-quart heavy saucepan, stirring until sugar is dissolved. Boil, without stirring but gently swirling pan, until mixture is a light golden caramel.
Carefully stir in cream mixture (mixture will bubble up) and simmer, stirring frequently, until caramel registers 248°F on thermometer, 10 to 15 minutes. Pour into baking pan and cool 2 hours. Cut into 1-inch pieces, then wrap each piece in a 4-inch square of wax paper, twisting 2 ends to close.
Fill pretty jars or boxes with the wrapped candy. Stored in airtight containers at a cool room temp they'll last for 3 weeks.
Tip: No fleur de sel? No problem – use 1/2 teaspoon coarse sea salt instead.