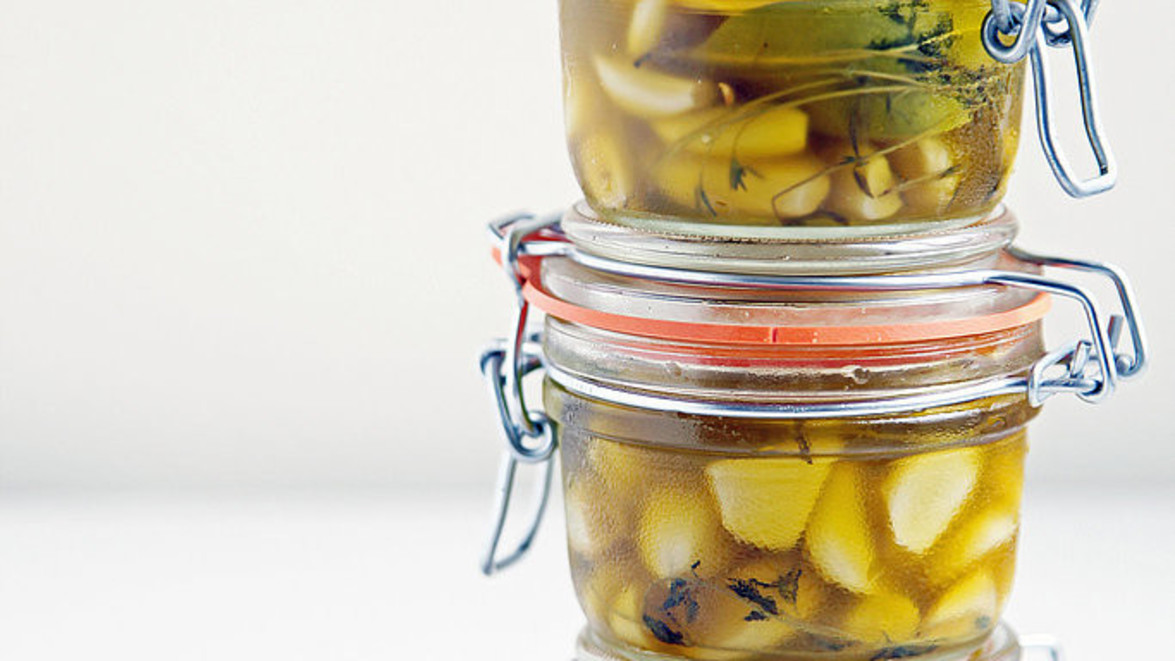 Edible gifts aren't just for Christmas. If you're heading to a new years eve party, this confit makes an excellent hostess gift, and is a refreshing change from sweets and chocolate.
The term confit is used to describe anything that has been cooked slowly into a rich, succulent texture. Stewing garlic in fat creates a creamy and mellow flavour which can be used wherever you would use roasted garlic:
Spread cloves on a crusty slice of bread
Use them to flavour soups, sauces, pastas, sandwiches, or marinades.
Whip cloves into mashed potatoes
Blitz cloves with its oil for a pungent salad dressing
Tuck the cloves under the skin of roasted chicken
Use the garlic infused oil in salad dressings or marinades
INGREDIENTS
6 heads of garlic, cloves peeled (2 cups)
3 bay leaves
6 thyme sprigs
3 whole dried chiles, such as chiles de arbol
2 cups extra-virgin olive oil
DIRECTIONS
Add all of the ingredients to a small, heavy bottomed saucepan. (The oil should cover the cloves by 1/2″. You may need a bit more or less oil, depending on the size of the pan you use.) Slow simmer the garlic of low & even heat for about 30 minutes to 1 hour, or until the garlic is completely tender & very pale golden, but not browned. Allow to cool to room temperature.
Divvy up the garlic cloves, herbs, and dried chiles among 3 half-pint canning jars using a slotted spoon to transfer the solid pieces. Cover all the solids with the residual oil, seal, and refrigerate for up to 2 weeks.
**Health Note: ** The risk of botulism from garlic confit is actually very low as long as you follow standard safe food preparation and storage practices, but it does exits. Keep the finished confit refrigerated and use within two weeks. Find out more here.