What you'll learn…
LEADERSHIP & CULTURE DEVELOPMENT

Leadership and culture are at the core of every successful company. Learn how to lead a team and develop a positive company culture.

STRATEGIC PLANNING & GOAL SETTING

Setting clear goals and creating a roadmap to achieve them is important for a company to thrive. Learn how to think strategically and measure success.

FINANCIAL BUDGETING & MANAGEMENT

Learn what "the numbers" really mean for day to day operations and how to properly plan for profit.

SALES & CUSTOMER SERVICE

Better care for customers by understanding their needs and providing them with an appropriate recommendation.

PERSONNEL MANAGEMENT

Every company's success is dependent on their employees. Learn how to empower your team and help them grow.
"I have been working at Gelderman for 10 years. I enjoy the people I work for and with. Since all of us have 'good' and 'bad' days, it's reassuring that if I have a 'bad' day, there are people that will listen and help! I would encourage anyone looking to join Gelderman Landscape Services to have an open mind. Just because you may start off as a labourer, you don't have to stay one. Just ask questions and strive to be your best. I was encouraged to move forward and am now excited to take on new responsibilities and further my education at Gelderman."
— Mike Harry, Turf Specialist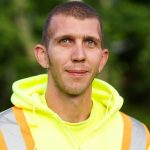 HOW TO APPLY
Gelderman U is available to existing Gelderman team members. If you feel ready to take your career to the next level, talk to your manager or contact your human resources representative and find out if you qualify.